Ocean Symposium Speakers
Sunday October 21, 2012
Jean-Michel Cousteau 
The world-renowned explorer and ocean activist, Jean-Michel Cousteau, will be joining us in Boulder, CO for Making WAVES 2012. He is the son of the ocean explorer, Jacques Cousteau, and has been carrying on the work of his father in ocean exploration and conservation. He is the Chairman of the Board and President of the Ocean Futures Society. He travels the world in hopes of educating young people, governments, and businesses to create alliances in ocean conservation. In 2008, he received the Lifetime Achievement Award from Jules Verne Adventures and the National Marine Sanctuaries Foundation Lifetime Achievement Award.  His organization's website can be found here for more information on his recent projects: Ocean Futures Society. Photo: © Carrie Vonderhaar, Ocean Futures Society.
Dr. Wallace J. Nichols
 J has been a COCO supporter from the beginning. He believes in reaching new constituencies and creating unexpected alliances all around the world. J. has been focusing on the relationship between the ocean and the human brain through BLUEMiND: The Mind and Ocean Initiative. J.'s philosophy is that through networking and communication, we can inspire a healthier relationship with the sea no matter where one lives. J. is the brains behind Blue Marbles Project, Ocean Revolution, SEEtheWild, LiVBLUE and many other projects. He has authored and co-authored more than 50 scientific papers and reports and his work has been broadcast on NPR, BBC, PBS, National Geographic and Animal Planet and featured in Time, Newsweek, GQ, Outside Magazine, Fast Company, Scientific American and New Scientist, among others.
Casson Trenor
From saving the whales of the Antarctic to studying the salmon of Alaska, Casson Trenor has worked to support stewardship of our marine resources across the globe. Trenor holds the position of Senior Markets Campaigner with Greenpeace USA, where he spearheads the organization's efforts to hold restaurants and supermarkets accountable for their seafood sustainability practices and to help educate the public about the global fisheries crisis. He is also the author of Sustainable Sushi: A Guide to Saving the Oceans One Bite at a Time, a pocket guide that enables consumers to dine with confidence at the sushi bar. He also owns and maintains www.sustainablesushi.net.  He is a frequent commentator on sustainable seafood issues and has been featured in CNN, NPR, Forbes, New York Times, Boston Globe, Christian Science Monitor, San Francisco Chronicle, Los Angeles Times, Seattle Times, and many others. Trenor also founded the world's first sustainable sushi restaurant, San Francisco's Tataki Sushi and Sake Bar, in February 2008. He has also converted two "conventional" sushi bars – Seattle's Mashiko and Miya's in New Haven, CT – into sustainable sushi operations.  In October 2009, Trenor was awarded the title "Hero of the Environment" by TIME Magazine, and in August 2010, Trenor received a Congressional Commendation and the "Ocean Protection Hero" award from the well-respected environmental organization Save Our Shores.
Joan A. Kleypas
Scientist III
Climate & Global Dynamics
National Center for Atmospheric Research
Joanie Kleypas is a marine scientist at the National Center for Atmospheric Research, who investigates how rising atmospheric carbon dioxide is affecting marine ecosystems. She has been heavily involved in the topic of ocean acidification since 1999.  Joanie uses a combination of data analysis and modeling to understand coral reef response to climate change, with the goal to improve conservation efforts that ensure coral reef survival through this century. Joanie obtained a PhD from James Cook University, as a Fulbright scholar to Australia, where she conducted a reef coring program to determine the history of reef growth on the Great Barrier Reef, and the factors that determine why some reefs grow well in some areas but not in others. In Callum Roberts new book, The Ocean of Life, he describes how Kleypas, a renowned coral reef expert, realized that by the end of the 21st century coral reefs would be bathed in water corrosive enough to destroy them, she excused herself and ran to the bathroom to be sick.  She was one of the first marine scientists to predict that habitats built from calcium carbonate would cease to grow within our lifetime.
Dr. Rod Salm
Dr. Rod Salm was raised in Mozambique and has focused his study on coral reefs and how climate change, ocean acidification, and unsustainable practices are destroying them. He is the author of Marine and Coastal Protected Areas: A Guide for Planners and Managers. Dr. Salm is part of The Nature Conservancy and leads the marine conservation in the Asia Pacific and was crucial in the development of The Nature Conservancy's Global Marine Initiative.  He currently resides in Honolulu and is working with teams of scientists in creating responses to the threats that the coral reefs are facing.  Dr. Salm has published more than 170 articles and 6 books on marine ecology, taxonomy, resource management, conservation, and popular natural history. Photo courtesy of © Lizzie McLeod.

Coral Reef Slideshow Narrated by Rod Salm
Photo of the Month by Rod Salm
Dr. Susan Shaw
A marine toxicologist, explorer, author and passionate ocean advocate, Susan Shaw, DrPH, is widely known for her pioneering research on the toxic legacy of man-made chemicals in the ocean environment. Dr. Shaw is the director and founder of the Marine Environmental Research Institute (MERI) in Blue Hill, Maine, and professor at The School of Public Health, Department of Environmental Health Sciences, State University of New York in Albany.  An outspoken and influential voice on ocean pollution, she is credited as the first scientist to show that flame retardant chemicals used in consumer products have contaminated marine mammals and commercially important fish stocks in the northwest Atlantic.  In 2010, Dr. Shaw dove in the Deepwater Horizon oil slick in the Gulf of Mexico and continues to inform the national debate on the hazards of chemical dispersants.  She has appeared in documentary films on the Gulf disaster including Animal Planet's Black Tide: Voices of the Gulf and Green Planet's The Big Fix, the Official Selection documentary at the 2011 Cannes Film Festival.  The recipient of numerous awards, Dr. Shaw is a Woodrow Wilson Visiting Fellow and was named Gulf of Maine "Visionary" by the Gulf of Maine Council on the Marine Environment. She is a recipient of the Society of Woman Geographers' Gold Medal, joining the ranks of Amelia Earhart, Margaret Mead, Jane Goodall and Sylvia Earle. In 2012, she received the Explorers Club Citation of Merit for "extraordinary feats of exploration and research" and her leadership role in ocean conservation.
Jim Toomey
Jim Toomey will be joining us for Making WAVES 2012 as the emcee of the Ocean Symposium.  He has been writing and drawing the daily comic strip Sherman's Lagoon, which is syndicated to over 250 newspapers in North America and in six languages around the world for the past 18 years.  Sherman's Lagoon combines two of his life-long passions: art and the sea.  In addition to drawing his comin strip, Jim is active in marine conservation and has been recognized by many organizations such as NOAA, NPR, Harvard University, TED, and Discovery Channel for raising public awareness of the oceans in a humorous way. Photo courtesy of insights.wri.org.
Claudio Garzon
Claudio began his career as an assistant art director for Graphic Evidence, a division for Litigation Sciences, a litigation research and graphics company that helped pioneer the use of modern technology and design to describe complex processes in the courtroom.  He later became a Senior Creative Art Director for bilingual Latino magazine, and formed his own graphics company "IDG3".  Claudio is currently working with Blue Frontier Campaign and Sea Stewards on their Shark Finning campaign.  Claudio co-founded Save Oceans & Seas = S.O.S to bring awareness to the increasing debris accumulation, using his art to convey the problem. Claudio made the Colorado Ocean Coalition an educational exhibit called the "By-Catch Surfboard" which is used for educational purposes.  Photo courtesy of losangeles.cbslocal.com.
Captain Alfred Scott McLaren
Captain Alfred Scott McLaren is president of the American Polar Society.  He is a writer, lecturer, and research scientist.  His expertise lies in the studies of the role that Polar Regions play in global climate change.  He has authored over 50 research papers.   Currently a deep sea explorer and scientist, Captain McLaren completed lengthy dives using the Russian deep-diving MIR submersibles to: R.M.S. Titanic in 1999 and 2003, the Rainbow Hydrothermal Vents along the Mid-Atlantic Ridge in 1999, and during June 2001; one of the first manned dives to the wreck of the German battleship Bismarck at a depth of 4,750 meters beneath the sea.   His book, Unknown Waters (University of Alabama Press, 2008), was judged a "Notable Naval Book of 2008" by the U.S. Naval Institute.  He received The Explorers Club's Lowell Thomas Medal for Ocean Exploration in 2000.   He was subsequently honored in 1983, with the Societe de Geographic Paris' Silver Medal for Polar Exploration and La Medaille de La Ville De Paris (Echelon Argent). In February 2003, he became the first deep-sea explorer to be licensed as a "Pilot in Command" of famed designer and builder Graham Hawkes' new high performance submersible Deep Flight Aviator, which is "flown" underwater like a fixed-wing aircraft. Photo courtesy of http://www.explorers.org/index.php/about/alfred_mclaren.
Voyage to the Bottom of the Sea.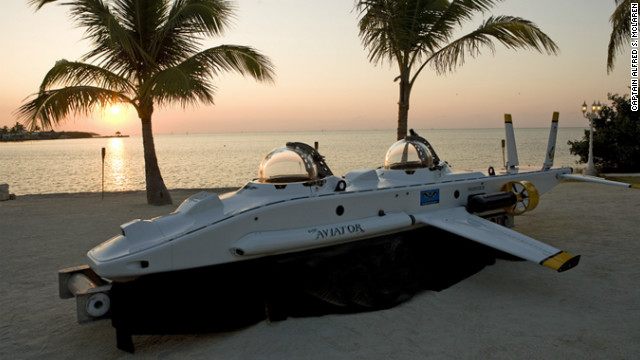 Dr. Synte Peacock
Synte Peacock is an oceanographer and climate scientist who became interested in the impact humans are having on Earth's climate after witnessing firsthand changes from the thinning ice in the Arctic to the warming ocean around Antarctica. She grew up in northern England, but now lives in the foothills of the Rockies in Boulder, Colorado. Her research integrates ecological, hydrological and atmospheric sciences to study the response of the planet to climate change, and to better understand actions and feedbacks that might amplify or mitigate that change. Dr. Peacock is a Scientist II in the Oceanography Section, Climate and Global Dynamics Division at NCAR. Her short career has included studying tracers in the ocean, air-sea gas exchange, paleoceanography and most recently analysis of projected climate changes over the next century in North America.
Shawn Heinrichs
Shawn is a passionate cinematographer, scuba diver, and marine conservationist. An independent filmmaker and founder of Blue Sphere Media, a production company specializing in underwater, adventure and conservation films, he has acquired considerable first-hand knowledge of the oceans most important marine areas. He has worked with leading film and journalist teams including CNN's Anderson Cooper, Yann Arthus Bertrand, and National Geographic and delivered projects for many of the top marine conservation organizations including WildAid, Shark Savers, Conservation International, The Nature Conservancy and Pew Environment Group.  Shawn has published numerous conservation articles and given presentations on marine conservation to audiences across the globe.  Key areas of Shawn's conservation focus include ending the global slaughter of sharks, protecting manta and mobula rays, and establishing marine protected areas. He is working to establish shark sanctuaries and shark fin legislation across the Pacific, Southeast Asia and the Caribbean. Shawn serves on the International Board of WildAid, on the Board of Shark Savers, and is an Associate Director of Manta Trust.  In recognition of Shawn's hands-on approach to marine conservation, he was presented the 2011 Oris Sea Hero of the Year award.
Richard Boot
Richard Boot is the President and Founder of FishChoice.com, a web based platform that connects commercial  buyers and sellers of sustainable seafood and keeps them updated with aggregated, market based information about seafood sustainability.  Prior to founding FishChoice, Richard worked as Director of Operations for FishWise (Sustainable Fishery Advocates). At FishWise he developed training and implementation programs for use in grocery stores' meat and seafood departments. For the FishWise program, Richard formed collaborations with national environmental NGOs on a variety of subjects including mercury labeling and education and sourcing of environmentally preferable seafood products.  Before getting involved with the sustainable seafood movement, Richard graduated from the University of California at Santa Barbara with a degree in Business Economics. He managed large restaurants for Chart House Inc. and Landry's and has worked as chef, buyer, and kitchen manager in the hospitality industry. He is certified by the National Registry of Food Safety Professionals and has expertise in seafood purchasing, receiving and handling and was named as a 2010 Seafood Champion by the Monterey Bay Aquarium for his work with FishChoice.com.
Louie Psihoyos
Louie Psihoyos is widely regarded as one of the world's most prominent still photographers. He is the Executive Director of the Oceanic Preservation Society (OPS), creating film, photography and media inspiring people to save the oceans. He has circled the globe dozens of times for National Geographic and has shot hundreds of covers for other magazines. His first documentary film, The Cove, has garnered over 70 awards globally, including an Academy Award for Best Documentary Feature in 2009.   The Cove examines the horrors surrounding the slaughter of dolphins in Taiji.  The film exposes the devastating practices that humans have been doing to marine life and how people have been turning their backs on the dolphins.
U.S. Representative Jared Polis
Jared Polis will be giving our welcome to the symposium. He is an independent leader who uses his private and public sector experience to find pragmatic solutions to the challenges facing Colorado and the nation. First elected to represent Colorado's Second Congressional District in 2008, Polis serves on the powerful Committee on Rules, the Committee on the Judiciary, and the House Democratic Steering and Policy Committee. Jared is a strong supporter of the oceans. His efforts in this area focus on getting accountability right at all levels, expanding educational models that work, and improving persistently failing schools with data-driven models to reduce achievement gaps. In a Floor Statement Supporting H.R. 3644- The Ocean, Coastal, and Watershed Education Act in Washington, D.C. Jared Polis stated, " In addition to my time growing up in Colorado, I also spent a lot of time in San Diego growing up where the community is as physically, emotionally and economically tied to the ocean and coast as Colorado is to its mountains. Regardless of where someone lives in our great and vast country, whether it's the plains, the mountains, the forests, the coasts or the tundra, our Nation's public spaces, wildlife and environmental health are truly our greatest national treasures, an important part of our national character and who we are." http://polis.house.gov/
Milo Cress
11 year-old Milo Cress is a social entrepreneur who founded a project called Be Straw Free to reduce the use and waste of disposable plastic straws. He encourages restaurants to offer straws to customers instead of putting a straw into every drink automatically and encourages customers who don't need a straw to order their drinks without straws.  Milo started his project a year and a half ago and has already gained national and international attention: He was recognized by the National Restaurant Association, which suggested his Offer-First policy as a "Best Practice" for restaurants nationwide, met the governor of Vermont and testified before the VT legislature, and was invited to meet with the entire congressional delegation of Vermont in Washington, DC. He also initiated worked with the mayor of Burlington Vermont, who became the first mayor to issue a Public Proclamation declaring the Be Straw Free Offer-first policy as a "Best Practice" citywide.  In 2011, Boulder, Colorado and Burlington, Vermont went head-to-head in a "Going Strawless" competition – in which restaurants participated by simply adopting an Offer-First policy for drinking straws. This competition was the first of its kind.  Milo and his project have been featured on local, regional, national and international press (including CNN three times) and he has spoken at the LOHAS conference in Boulder, and at Boston University (twice) in the past year. Kids and adults, schools, businesses and organizations in countries around the world are now participating in Be Straw Free.  He is currently planning his first international speaking tour in March 2013 to accept speaking invitations in Singapore, Malaysia, Australia and New Zealand.
Dr. Alex Antoniou
Dr. Alex Antoniou has been working with and studying sharks for over 17 years.  He began his work by establishing a field station for the Shark Research Institute in the Honduran Bay Island of Utila and subsequently convinced the Honduran Government to enact protection laws for the whale shark in their territorial waters.  He was the first to tag whale sharks in the Caribbean with satellite tags.  From Honduras, Alex moved on to study sharks in Mexico and the Galapagos Islands. Recently, he initiated an acoustic-telemetry program to study scalloped hammerhead sharks at Cocos Island, Costa Rica. This research is ongoing with PRETOMA of Costa Rica with plans to tag more sharks. During an expedition in 2008 and one in 2009, a total of 17 sharks were tagged, including scalloped hammerheads and Galapagos sharks.  Since then over 100 sharks have been tagged.  The data from this research project is already beginning to collect valuable information that will hopefully lead to increased protection at these remote islands.  The research is continuing this year with more plans to tag white sharks at Guadalupe Island and hammerhead sharks at Revillagigedo.  Alex has a passion for shark research and shark conservation around the world.  in 2010 Alex founded Fins Attached: Marine Research and Conservation, a non-profit organization based in Colorado Springs.  He feels that more people need to become engaged in protecting these magnificent and valuable creatures. Becoming educated about sharks is the first step.  Find out more about the shark research efforts at www.finsattched.org.
Gregory S. Stone Ph.D.
Gregory S. Stone is Chief Scientist for Oceans and Executive Vice President at Conservation International (CI).  He pioneered research in Antarctica on marine mammals and later ice ecology and has written prolifically for science and popular publications and has lectured throughout the world.  He is a specialist in undersea technology and exploration and has logged thousands of hour's SCUBA diving in all five oceans.  His numerous accolades and professional associations include being named a National Fellow of the Explorers Club, awarded the Pew Fellowship for Marine Conservation and the National Science Foundation/U.S. Navy Antarctic Service medal for his research in Antarctica, and being named one of the five "Bostonians of the Year" by the Boston Globe in 2008.  Today, his work with CI focuses on global solutions for the oceans which include a metric for measuring ocean health, fisheries management, and ocean stewardship.
Colleen Flanigan
Colleen Flanigan is a visual, performing, and environmental artist, exhibiting internationally. She is TED Senior Fellow, selected for her work uniting art, science and technology for coral reef restoration.  In 2003, she learned that corals were dying and that her background in design and sculpture could be helpful to reviving them and marine biodiversity while building sustainable relationships between humans, ocean resources, and other species.  She turned her focus to Biorock® mineral accretion, and started Living Sea Sculpture in 2011 as an artistic sister to the Global Coral Reef Alliance. Colleen teaches jewelry and sculpture, creates ball-and-socket skeletons for stop-motion animation puppets (most notably, "Coraline"), and makes socio-ecological alter egos, Miss Snail Pail and Amphitrite (goddess of the sea), to transform herself and ordinary, complex real world issues into a conversation piece.  Arts and culture are an integral element in our quest for balance on land and in sea.
Mehgan Heaney-Grier
Mehgan Heaney-Grier is a freedive champion, Hollywood stunt diver, TV personality, ocean advocate, shark conservationist and biologist.  Mehgan first achieved worldwide recognition in 1996 when she established the first ever United States freedive record for both men and women by diving, unassisted to a depth of 155 ft on a single breath of air.  Less than a year later, she bettered her own record with a successful dive to 165 ft.  In 2000, Mehgan was part of the inaugural roster inducted into the Women Divers Hall of Fame.  In addition to her freediving, Mehgan took an early interest in marine predators and the relationship between predators and humans entering their environment.  She has spent the last 17 years encountering many species of sharks, American alligators and other marine life, observing and documenting their behavior.  Her underwater endeavors have been featured worldwide in a variety of publications including Life, People, and Outside magazines, and in many television segments and documentaries including her own series on Animal Planet.  Mehgan recently graduated Summa cum laude in Ecology and Evolutionary Biology from the University of Colorado at Boulder.  She was awarded the school's highest honors in recognition for her field research in the Bahamas, diving with Caribbean reef sharks and studying the effects of tourism-related feeding on shark behavior.  As an anthropologist and biologist, Mehgan is excited to continue exploring the delicate relationship between humans and the marine world – believing that with a better understanding of these dynamics we can make the changes needed for a thriveable future.
Daniel J. Basta
In January 2001, Daniel J. Basta was named as the Director of NOAA's Office of National Marine Sanctuaries. During his tenure, the 13th sanctuary and the nation's first marine national monument, that is the world's largest protected area, were added to the nation's system of special marine places.  He has led a dramatic increase in the sanctuary system's role in marine conservation in the U.S.   He continues to build partnerships with public-private organizations, industries, and academia throughout the U.S. and internationally.  The sanctuary system has gained acclaim worldwide for its innovative approaches in managing the national marine sanctuaries. Trained as an environmental engineer, Mr. Basta joined NOAA in 1979.  He has 30 years' experience in environmental quality and natural resources assessment and management throughout the United States and abroad, including Europe, Australia, Mexico, China/Asia, South America, and Canada.  He has co-authored more than 50 publications in his field and contributed to many, many more, including textbooks on modeling, atlases of U.S. coastal and ocean regions, reports and books on environmental problems at the national, region and international levels, and articles in journals and other publications.  Before joining NOAA, Mr. Basta held positions at Resources for the Future in Washington, DC, the Environmental Studies Board of the National Academy of Sciences and John Hopkins University.  Before returning to graduate school to focus on environmental and natural resources management, he worked as an engineer in the aerospace industry, and as a management consultant.  He has been a scuba instructor for 27 years, and is a duty status NOAA diver. 
Steve Weaver
Steve Weaver is owner of Weaver's Dive & Travel Center and Dream Weaver Travel, both based in Boulder, CO.  Weaver's Dive & Travel Center is a retail dive store offering scuba training courses, equipment sales and service and escorted trips monthly.  Dream Weaver Travel is a wholesale travel company, specializing in group dive travel and working with other dive retailers across the nation.  Steve has organized and escorted groups of divers around the world for over 30 years.  He is a Master Scuba Diver Trainer and an accredited travel provider.  Steve was one of the founders of The Colorado Scuba Retailers Association and served as president for 2 terms, is is currently vice-president of that organization.  He has traveled to and or dived on 6 of the world's 7 continents, and has personally lead over 200 group trips.
Asher Jay
Asher Jay is a designer, artist, writer, and activist.  She's a staunch supporter of animal rights, wildlife conservation and sustainable development and she uses her fashion, art and writing to raise awareness.  Sea Speak Sphere is the brainchild of Asher Jay, is a creative diaspora that advocates marine conservation.  Asher Jay will be presenting her Message in A Bottle art installation during the Making WAVES: Ocean Film Festival at the Dairy Center for the Arts in Boulder on October 20, 2012.  Learn more at: http://www.seaspeaksphere.com/